Transglobal Underground… A history…
Transglobal Underground had to happen. They refused to accept that dance music had to be four to the floor house. They refused to accept that something called 'World Music' ever existed. They've slowed down hip-hop and sped up dub. They've sang in whatever language they felt like singing in. They were DJs but they play live. Their influence is all over the place, those who were influenced most not knowing who they are, those who were influenced least convinced they're superstars.
To even try to explain what Transglobal Underground still is, we have to go back to the  early nineties , when drum and bass were two separate things and trip hop was something you did on a paving stone. It's a long time ago, many brain cells have been lost since and, in any case, it's often been uncertain as to who Trans-Global Underground were from one day to the next. Names were changed at will, members came and went and often came back again, so forgive us if you were there at the time and it all looked different.
EARLY 90s
So, fact: the name Transglobal Underground followed on from the recording of a single, 'Temple Head' for Nation records, a label created specifically to fuse western dance music with Arabic music, Asian music, African music…then more a dream than a reality. At various times  Nation was a home to Asian Dub Foundation, Talvin Singh, Loop Guru, Nitan Sawhney, Invaders of the Heart, Fun-da-Mental and, most significantly for this story, Natacha Atlas….a whole tribe of musical innovators.
Some names: (some only dreamt up later) Man Tu, Tax D, Alex Kasiek, percussionists Goldfinger and Terry Neale the Human Quica, rapper Sheriff, Aki from  Fun-Da-Mental, Paul Tipler (soon to be Stereolab's producer).  Some background experiences: DJ culture, Indian classical, reggae, bhangra, hip-hop, community politics, underground art and eighties pop. 'Temple head' was the result of this meeting and Trans-Global Underground was the result of 'Temple Head.'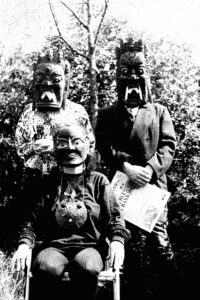 'Temple Head' caused delight and confusion in equal measure. DJs such as Andy Weatherall Danny Rampling and Monkey Pilot caught on fast while other DJs, confronted by a record featuring tablas, Polynesian vocals and playing at 95bpm, simply played the thing at 45rpm instead of 33. It became Single of the Week in Melody Maker and got played on daytime Radio One. The first public faces of TGU appeared; three Nepalese Temple guardians, an identity which caught the mood of the single and saved effort on photo sessions.
At this point, along came Deconstruction Records, quick to seize on anything going on on the dance scene, with an offer to make an album for them. Quickly an assortment of friends, associates and distant relatives got thrown into a studio in Euston and recorded the fundamentals of what was to be TGUs first album. The sessions  marked the first appearance of vocalist Natacha Atlas, who had recently departed from Invaders of the Heart. She gave a performance that reduced the whole studio to tears, then capped it by belly dancing round the control room wearing a copy of the Daily Mirror. So she was in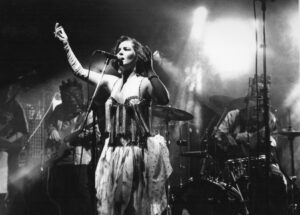 Now something had to be got onstage. Most British dance acts of the time consisted of one singer and two keyboard players in anoraks. Trans-Global Underground rapidly gained a reputation for flamboyant live performances, dramatic costumes, belly dancing, endless percussion and, of course, Nepalese Temple guardians.  Deconstruction were horrified and TGU returned to their spiritual home at Nation, recording a second single, 'I, Voyager.' By the time of the third single, 'Shimmer,' a track from the Deconstruction sessions featuring Tuup, the word was spreading and Nation, with Fun-da-Mental and Loop Guru also getting serious media coverage, finally had the wherewithal to get an album out.'Dream of 100 Nations' was acclaimed as one of the year's best debuts, and when it got into the top fifty it was inevitable that another major company would start throwing its weight around. This time it turned out to be Sony, who financed the second album, 'International Times.' This period was the beginning of TGUs adventures into Europe, the band's live reputation now being immense, the lineup expanded, based around Natacha,  Hamid Mantu (drums) Alex Kasiek (machines) Dubulah (bass and guitar), Neil Sparkes (congas and vocals) Coleridge (percussion and vocals) and Larry Whelan (winds).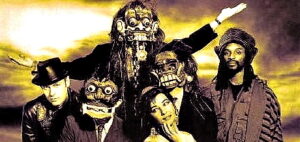 Beyond the live shows, TGU were also busy remixing and producing. Their biggest task, was producing Natachas debut album for Beggars Banquet Records. This was 'Diaspora,'  more or less an unofficial Trans-Global Underground album, based around the live line-up of the time Her second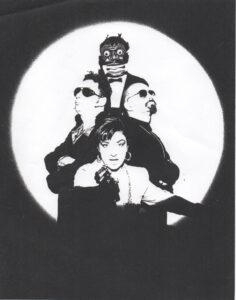 album, 'Halim,' released in 1997, moved away from the TGU sound in a more purely Arabic direction; however the TGU produced single 'Amulet' was the track that did the most to get her taken seriously by Arabic audiences.
As for TGU themselves, in 1996 'Psychic Karaoke,' their third official album, was released. Probably the groups most polished album, it took the line-up of the time about as far as it could go, so, after a lengthy spell of touring, it disbanded. Neil Sparkes and Dubulah went on to form Temple of Sound  and  Larry Whelan went on to work with Banco de Gaia and Natacha, who, while concentrating on her solo career, continued to appear live with TGU.
MID NINETIES
Once again, Transglobal Underground was a floating, indefinable venture. For a while it was more of a club than a group, based round Mantu Kasiek and Coleridge, utilising the services of North London clubland legends DJ Nelson Dilation and VJ Sheikh Ad Helik. The reputation of the live act continued to hold up, aided by the introduction of Johnny Kalsi, percussionist and leader of Indian drumming troupe the Dhol Foundation.
TGU travelled into Eastern Europe, played in Sarajevo to mark the end of the war in Yugoslavia, and made their first appearances in the USA and Turkey. The album that followed these adventures, 'Rejoice, Rejoice' was partly recorded in Hungary and Belgium, reflecting a less London based sound and introducing a gypsy and European influence to TGU for the first time.
For the tour around 'Rejoice Rejoice' Tuup reappeared onstage for the first time in a few years, along with sitarist Sheema Mukherjee who had played on the album. TGU pended 1998 with their biggest…and most unexpected…tour to date, supporting Page and Plant on a series of massive European shows, gaining a new audience and pissing off the odd Central European rocker on the way.
By 1999 Natacha and Johnny's own projects were taking up too much of their time to continue playing with TGU, but Natacha's third album, 'Gedida' was largely TGU produced, notably the single 'Mon Amie La Rose' which was a big hit in France, and the band still work with her on recording projects.
Around the same time, TGU parted company with Nation Records, who marked the end of an era with a compilation of the Nation years 'Backpacking on the Graves of Our Ancestors.'
Two more of the cast of 'Rejoice Rejoice' came onboard fulltime…Punjabi percussionist G-Man and Zulu vocalist Doreen Thobekile, who had worked with Mantu before on the Xangbetos project for Nation. With a new burst of energy, TGU started travelling further outwards, touring in India, Tunisia,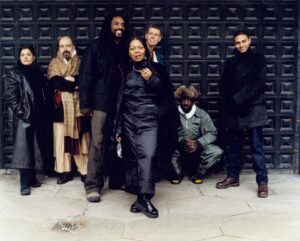 Turkey, South Africa and playing regularly around Eastern Europe In between, some time was also spent in Egypt working with various Egyptian artists including Hakim, Riko, Mika Sabet and of course Natacha Atlas. TGU worked extensively on Hakims first official western release 'Yaho' and got involved in a residency in a Cairo nightclub, before heading back to London to complete the new TGU album.
The Egyptian sessions were a natural result of TGUs work as remixer and producer for a number of Middle Eastern artists; over this period they had hits in the Arabic speaking world plus a number one hit in Turkey with a remix of, of all things, a Greek folk song called 'Capkin'…
NEW MILLENIUM
TGU marked the dawn of 2000 back in London, playing next to the Thames at midnight. Working from their London base at Fortress Studios, their next recordings became the album 'Yes Boss Food Corner' which was half finished when the band signed up to Ark21 Records new label, Mondo Rhythmica. The album was released in 2001 but the relationship was short-circuited with the collapse of the US network after 9/11. Despite that  the touring stepped up, with the band visiting Kazakhstan, Sri Lanka, Venezuela and an endless list of others.
After the end of the touring for 'Yes Boss Food Corner' TGU concentrated on DJ sets and soundsystems, with which they could venture into many corners of Europe hitherto unreachable. In 2003 Coleridge, who'd been the mainstay of the soundsystems, opened a dance record business of his own and Doreen Thobekile retired from live work to begin a solo project .

The remaining 5, Mantu, Tuup, Sheema, G-Man and Kasiek (aka Tim Whelan by this point!)  began work on a new project, which became the sixth album, 'Impossible Broadcasting.' This was recorded in London, Prague, Budapest and notably in Sofia, as part of a studio and live project with legendary Bulgarian traditional group Trio Bulgarka.
LATE ZEROS
For the next TGU returned to playing the UK regularly for the first time in more than 6 years, turning up regularly at festivals and venues throughout the country. In the summer of 2005 TGU played their 3rd and most recent tour of North America, starting at San Diego and continuing up the west coast, playing a number of festivals well off the beaten track and continuing north till they fell of the edge.
Now TGU had their own  record label in Mule Satellite Recordings and were more in demand than ever as a live band in the UK, strengthened by 2 new members of the collective, vocalist Krupa and percussionist Rav. Neiyyar Both were involved with the recording sessions for the next album, 'Moonshout.'' In the meantime Tim, Hami and Sheema all contributed to the debut album by the Imagined Village, their work on the album winning a Radio 2 Folk award. Soon after this, 'Moonshout,' reflecting TGUs control over their music and years of adventure and experience in playing it,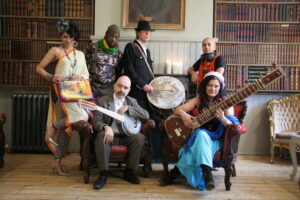 garnered a Radio 3 World Music Award in the Club Global category, a category many thought TGU had more or less invented. The album gained some of the best reviews in the groups long lifespan, and sparked off a whole new series of live shows with the band playing their first full tour of France in many years, and travelling across Europe from the Algarve to the furthest corners of Ukraine over 2008.
THE NEW DECADE
At the end of 2009 Hamid MantTu and Tim Whelan began a project under the name U.N.I.T.E. which gathered together a host of collaborators across Europe. Partly inspired by their work with the Imagined Village and partly by the musical partnerships and friendships forged over the last decade, the result was 'A Gathering of Strangers,' which you can find more about on this site. Meanwhile Sheema Mukherjee continued with the Imagined Village, working on their second album, and Krupa began working intensively on her solo career. Everyone got back together for summer tour around  the 2011 release 'The Stone Turntable' the eighth official album marking 20 years of Transglobal Undergrounds existence.
This was followed by one of TGU's most ambitious projects: putting together a group of musicans from London and each of the seven nations of the Arabic side of the Persian Gulf to play firstly in the Gulf region itself, and secondly at the River of Music festival that launched the London Olympics. The resulting project, titled 'In Transit' is detailed in the Side Projects section.
Around this time, Tim and Hami started working on remixes for the Albanian band Fanfara Tirana. What started out as a small remix project grew into o a whole album, with Tuup, Sheema and Rav coming on board on the recording sessions. Once the album was finished it seemed irresistible to play it live. Only problem: Fanfara Tirana are generally 11 people and can be as many as 15…put TGU and a crew on top of that and you had one of the biggest and most expensive touring shows in Europe. From Albania. It was impossible so, of course, it had to be done. The album, 'Kabatronics' came out in early 2013 and the whole show debuted in Rome that July, continuing to play Europe for the following few years and winning an IMA award along the way.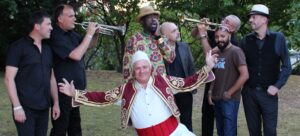 Having gone that far forward, it was time to return to the source!….Natacha Atlas, Dubulah and original percussionist Goldfinger came back into the family in 2017, playing an Original Members tour through France and the UK, with a compilation album 'Destination Overground' concentrating on Natacha's work with TGU over the years. not just the early tracks but some later collaborations. With the more recent lineup of TGU still on the road, the  result of this was that, in 2019, the number of people and ideas  involved in TGU had become bigger than ever, but all organically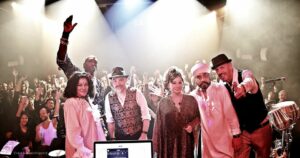 interlinked together. One big international family dreaming of 100 nations.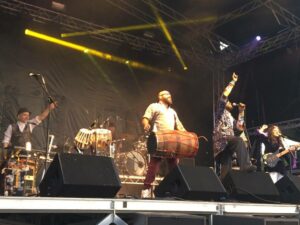 This family was all brought together on the most recent album, 2020s "Walls Have Ears,' with Natacha, Goldfinger and Dubulah all featuring heavily along with current regulars Hamid Mantu, Sheema Mukherjee, RaThe path that's been taken has never been predictable and no one involved at the beginning could have imagined that, after so many twists and turns, Transglobal Underground would still be on a journey that shows no sign of ending and no interest in having a map to take us there….
For more information on Transglobal Underground please contact:
tgu1@mac.com
Doreen Thobekile
Please also read the Doreen Thobekile memorial page