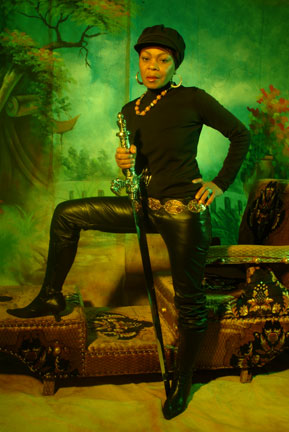 Doreen Thobekile, who died in 2010, was one of the major figures in the South African London diaspora, known at different times, and often simultaneously, as a singer, dancer, actress and designer. A vital member of the TGU family, she sang with Trans-Global Underground live between 1999 and 2004, appeared on 4 of the bands albums, and worked with them on her solo album 'London Zulu,' with Hamid, Tim and Sheema all appearing regularly on her solo live dates.
Born in Pietermaritzburg , South Africa Doreen took to dance and song during her childhood school years and launched her career in Johannesburg immediately after finishing high school in  the 1960. She had a part in the film 'Zulu'  and went on to join the show'African Follies' where she excelled as one of the group's solo dancers.
"African Follies" was a big success and went on tour outside South Africa. In Zimbabwe, then Rhodesia, while still on tour, Doreen got married to a white Briton. On orders from the South African government the Rhodesians deported them both and Doreen arrived in the UK with no passport.
Doreen rapidly found work in London and was lead singer in the London version of the West End South African musical 'Ipi Tombi' for 8 years, before founding the Zulu dance group 'Shikisha'. She toured with the famed South African artists Miriam Mkeba and Hugh Masekela, as well as singing and recording with Mose Fan Fan on 'Somo Somo'.
Working as a session vocalist In London, Doreen found herself doing sessions in London for all sorts of unexpected people such as David Essex, Howard Jones, M  a number of artists for the Real World label and most successfully also  the KLF, which led to Doreen appearing on a number 1 UK single singing alongside Tammy Wynette! She's the one in the blue top in the video at http://www.youtube.com/watch?v=1gzkllCIyww
At this point Doreen met up with Transglobal Underground. Appearing on their fourth album, 'Rejoice Rejoice' she rapidly became part of the TGU family and joined them on their endless touring schedule that took them through the end of the millennium and, eventually back to Cape Town and Johannesburg in the new democratic South Africa. She was able to reconnect with her African family and found herself still remembered in the streets of Johannesburg and Durban,  where she finally was once more able to perform and work, although still based in the UK.
Most people would have considered that enough to be going on with….but Doreen marked her 60th birthday not by retiring but by working even harder, working with members of Trans-Global Underground on a solo album 'London Zulu' that was eventually released in 2005. . By this point she was playing regular shows around London and the UK with a more electronic line-up but, by 2006, her battle with cancer was starting to take it's toll and it became impossible for her to travel far, which
Beyond her musical & dancing careers, Doreen was devoted to the preservation of South Africa's culture and traditions, often participating in cultural and arts workshops. She was also a fierce activist for women's issues in Africa, including working as a founder artist of WOMA, an organization that supports and educates women affected by AIDS in Africa. Her final live appearance, in February 2010, was for a pre-school charity in South Africa where she sang and danced with an energy that defied the illness inside of her, and where she was joined not only by her daughter Ingrid, who'd worked with her regularly onstage, but her granddaughter Kanika.
Doreen's talent, energy and love of life was a huge inspiration and influence on Transglobal Underground and her presence is still felt in the music she left behind her. Her music lives in through her daughter, Ingrid Webster, and the band London Zulu, which you can read more about on this site.