The creation of a group of superstars from the Gulf region for the London festival that launched the 2012 Olympics was possibly the most ambitious single project TGU have ever been involved with. You can read about it's origins on the piece below, which originally appeared in Songlines magazine. The various artists involved have stayed in touch since then, and can sometimes be found in London hotels playing weddings, or jamming at 3am in a Middle Eastern restaurant or two.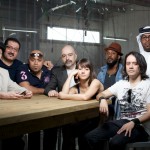 "November 2011 in an Acton car park. We get a call from the British Council offering the mission as follows: find one artist from each country along the western coast of the Persian Gulf: Kuwait, Bahrain, Qatar, Saudi Arabia, the UAE, Oman and Yemen. Add elements from London and create a group that can play firstly at the Dubai Chillout Festival and later at the River of Music festival in London in July. The show must be true to the roots of the region but not traditional and equally influenced by London. A bunch of disconnected musicians from different backgrounds onstage making something spontaneous and carefully rehearsed. We've got a couple of months. The job is clearly impossible. It's insane. We accept immediately.
This calls for help from the TGU extended family. We head up the Edgeware Road and meet up with long time associate Tarik Saeed, Egyptian born keyboard arranger with as much of London as Cairo in his bones these days. Tarik's immediate reaction (after lighting up his portable shisha, that is) is to recommend Nissa Al Issa, a singer and oud player we've already seen at work with Syriana and we know of as one of the best Arabic artists in the UK. We didn't know he was Kuwaiti born and bred. We have the beginning of something.
We seek out another old cohort, Heitham Al Sayed, best known for his work as a rapper with Senser but also the only Saudi born metal guitarist we know of. Word of mouth brings us Bahraini born jazz trumpeter Yazz Ahmed. The very title of her solo album 'Finding My Way Home' takes her into the heart of the project. That's the London contingent on board, now for the Gulf itself.
We all fly out to Dubai with a bunch of new versions of Khaleegi hits and traditional songs with a few electronic dub elements but nothing set down too far. Setting up at the local venue the Fridge's rehearsal space, we try out a 6/4 groove inspired by Yazz' interest in getting away from a 4/4 rhythm. Heitham tries a rap over it. Tarik lights the portable shisha, pulls out an Emirati song from his endless repertoire and it fits….Nizar starts taking the tune and the lyrics elsewhere. In comes Dubai based electronica and soul vocalist Hamdan Al Abri, bringing the lights of the city directly into the sound….we've been together for just a few hours and have created something totally new that has a part of all of us in it, and it's feeling good.
Tarik and Nizar are fired up enough by the first day to end up jamming in the shisha bar next door to the hotel half the night. Hamdan is down the road playing a funk version of 'Seven Nation Army.'
The next day the last arrival, singer Mansour Al Muhannadi arrives from Qatar. We love his current album 'Fi Zemmetak,' and we know he's someone at home with both the ancient and modern in Gulf music, but what's he going to make of this unprecedented collection of grunged out khaleegi jazz grooves? He settles into the Fridge's sofa, checks out Heithams guitar licks with a big smile, and his beautiful voice fills the room and the streets around. Yazz' trumpet is soaring above the mix, Hamdan takes it from ancient to modern Dubai with one of his own songs and everyone is getting inspired by everyone else.
By the last day so many ideas are coming in from so many angles that we're only saved from total musical overload by the British Council bringing in a bunch of local schoolkids to check out what we're doing. "How many songs will you play?" one shouts. "700" quips Heitham. The intense scrutiny of the kids is a fine discipline and we finally manage to get everything played in some sort of order.
Onwards to the Festival the next night, and onstage in the shadow of the world's tallest appartment building (or it will be when it's finished). One hour later everyone's still smiling. Against the odds we achieved what we came to Dubai for but we all feel we've gone further than that. Some of us are at home here, some of us learning, some of us looking for our roots, but we've all taken music bedded in Gulf traditions and brought part of ourselves into it, in transit between what was once two worlds and now is both less and more. You know how that feels. You don't? Well come to the River of Music in July and feel it."