Released in 2010, 'A Gathering of Strangers' was a one-off  Transglobal Underground project creating a virtual network of artists across Europe working separately and together on traditional songs of separation and togetherness. Not folk, not electronica, not folktronica, 'A Gathering of Strangers' didn't so much straddle genres as bypass them altogether in true TGU style. The result is an unrepeatable  work that's gained cult status over the last few years.
'Multi-faceted and often gorgeous…a pan-European journey you'll want to embark on at length.'  SONGLINES
'Entertaining and inventive…a bold experiment that actually works'  THE GUARDIAN
'This is music we have to feel, understand and respect, in terms of maturity and what it represents' GENERATION BASS
'An album of hidden depths, attractive musical turns and conceptual intelligence'  ROOTS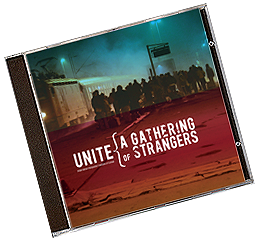 As Europe moves nervously into an uncertain future, 'A Gathering of Strangers' is a musical look into an uncertain past, putting toether a collection of traditional songs of emigration, exile and longing through a series of radical machines and electronic beats, emerging with new sounds and visions of an uncertain future.
This is a collection of music from across Europe but not any Europe that you'd normally find music collected from. It's a Europe full of computer synths and machines, but not a shiny prosperous technologically advanced place filled with Ibiza copycat nightclubs…the machines wheeze and splutter like the grandchildren of a family of pre World War One phonographs.  It's a Europe with a history and tradition but the sort that normally gets quietly buried and not talked about. There's elements of techno, dubstep and electronica but twisted and broken. There are songs, but often ending in a different  language or the  order that they start in.
In 2009, Hamid Mantu and Tim Whelan took a break from TGUs touring schedule to  connect with a number of old and new musical acquaintances across Europe, creating a network under the name 'U.N.I.T.E' which recorded in Budapest, London, Sofia, Prague, Dublin, Copenhagen and Paris. Tradtional songs were sent back and forth over the net, changing all the time up till the final versions appearing on 'A Gathering of Strangers.'
For example, 'Van Diemans Land' is an Irish version of a song also well known in England and Scotland, this version being partly recorded in Poland with a rap in Mandinka recorded in Prague. This wasn't because people weren't available to travel; the whole point is that the music travelled and the musicians stayed where they were and waved goodbye. 'Against the Storm' features the voices of Czechoslovaks who were soon to have to leave their country after the Nazi takeover in the 1930s. The dubstep mix was made in Prague and the Czech voices mixed in London.
Some of the songs are very old, but most come from some time around the turn of the century. 'I Left My Sweet Homeland' is an anthemic Hungarian song about, well, about exactly what it says. Another Hungarian song, 'Away to a Stranger' is based on a traditional song about a man being conscripted into the army; modernised and re worked it's become a song about a woman being conscripted in a very different manner.
Amongst those appearing on the album:
YANKA RUPKINA the legendary Bulgarian traditional singer and leader of the Trip Bulgarka
JIM MORAY English folk electronica pioneer
STUART A STAPLES of the wonderful TINDERSTICKS
MARTIN FUREY Composer, vocalist and multi-instrumentalist from on of Ireland's greatest musical families
DJ LEPE and NORI KOVACS of the Budapest based collective Balkan Fanatik
THE PERUNIKA TRIO London based Bulgarian traditional ensemble
'A Gathering of Strangers' toured across the UK in the summer of 2010. Here's an extract of what went on:
http://www.youtube.com/watch?v=ekjmkIwXw-o&feature=related