BEACH BELLYDANCE BABYLON… ORIENTAL GARAGEBAND BAROQUE BELLYDANCE SURF HIP HOP FROM THE 23rd CENTURY
Current release  MULE 11: the 'Halwa and Chantilly' collection featuring Raphëlle Von Glitz performing covers of:

 TOXIC (Versailles Rebellion Version)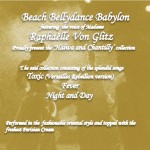 FEVER
NIGHT AND DAY
 Based on sessions by various members of Natacha Atlas' band and Transglobal Underground, Beach Bellydance Babylon started life with the debut self-titled album which celebrated the golden years of Egyptian surf guitar. Released in 2007, 'Beach Bellydance Babylon' in typical TGU style mangled a whole bunch of genres together and spat them out as a surf style tribute to the  1960s bellydance guitar groups of Cairo, New York and Istanbul. Except the songs chosen for the project were by Depeche Mode, the Black Eyed Peas and one or two other totally unrelated artists; the album kicks off with a belladi version of the Avengers Theme and goes on from there, taking in some original compositions along with the cover versions. Produced and stuck together by Tim Whelan with Hamid Mantu on drums and the mighty Aly Minyawi of Natacha Atlas' band on percussion, the album was mainly distributed in hip bellydance circles if you'll excuse the pun, but is still available online.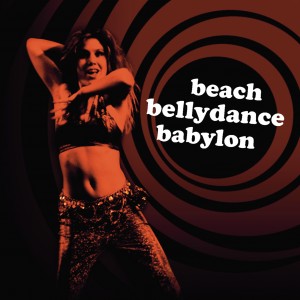 "Beach Bellydance Babylon' became a cult album with oriental and tribal dancers and has been used as the backing for numerous dance choreographies (it's also been used on a Sky TV series about supermarkets, but anyway…) and along the way, Parisian dancer, choreographer and vocalist Raphaëlle commissioned a number of new arrangements which have been performed in the sort of Paris cabarets you only stumble across by accident, can never find again, and end up wondering if the dancers really were all killed by a vampire at the end of 'Toxic.' Or why a dance troupe performing a reasonably stately version of Cole Porter's 'Night and Day' should suddenly put on cheerleader outfits and start waving pompoms.
Both songs are presented on an EP release on Transglobal Underground's label Mule Satellite, along with an elctro-oriental funk version of "Fever." Currently the choeography of 'Toxic' is still being peformed in Paris and London, and the baroque dancers are still being murdered by vampires, as happens to all the best people.