TRANSGLOBAL UNDERGROUND'S  COLLABORATION WITH ALBANIAN BRASS MASTERS  FANFARA TIRANA,
'KABATRONICS'
"A legend tells that a clarinet player was crying at his wife's death bed. She asked him to cry on his clarinet instead and as he did so he created the first Kaba."
2 years ago Transglobal Underground were asked to remix a couple of tracks by Albanian brass masters Fanfara Tirana for an album in which the Tirana based band were developing away from their Balkan brass beginnings and including much more specifically Albanian traditions into the sound, notably featuring the stunning voice of vocalist and folklorist Hysni Niko Zela. Little did anyone know at the outset how big a project this was going to grow into…..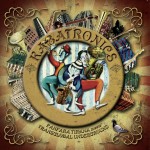 Instead of simply remixing the tracks Transglobal Underground played extra lines all over them, bringing in Johnny Kalsi, leader of the Dhol Foundation and the UK link between the 2 acts, into the studio to add percussion. On hearing the results, Fanfara Tirana added a whole bunch of new ideas and these inspired TGU frontman, vocalist percussionist and storyteller TUUP to add lyrics to a number of the tracks. By this point ideas were flying between London and Tirana, with sitarist Sheema Mukherjee sending yet more ideas in from elsewhere in England and Frank London of the Klezmatics adding yet more trumpet to the colour.
The result of 2 years of work, 'Kabatronics' presents both a stunning musical tradition, often under-explored outside Albania itself, in a new setting, and a new take on electronic music filtered through Albanian soul.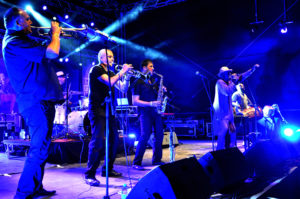 KABATRONICS ON YOUTUBE:
https://www.youtube.com/user/FanfaraTirana
REVIEWS OF KABATRONICS:
"A highly entertaining clash of Albanian brass and beats, with unexpected echoes of India or the Caribbean added in. The best Transglobal offering since Moonshout." GUARDIAN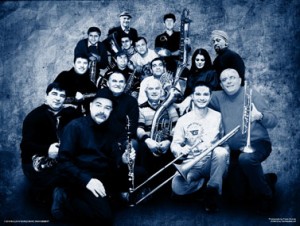 "An off-the-scale oddity, this collision of street-level London with Albanian patriotic marches is a cross-cultural riot."TIMES
"This great Albanian brass band were in the studio rather than lifted from the grooves of some old vinyl. There's a real vitality and immediacy to the meaty beats, crunching tubas and mercurial clarinets that speak lucidly of both past and present. INDEPENDENT
"Yes I knew it was going to be good, but perhaps not this good. Kabatronics is a proper album like wot they used to make: diverse, consistent, well produced and with a whole that's greater than its many impressive parts." fROOTS
"Fanfara Tirana could stun a badger at 50 paces'" SONGLINES